How to Stop a Drill Bit From Slipping on Tile
Get a diamond drill bit started on porcelain tile using plexiglass and a twist bit.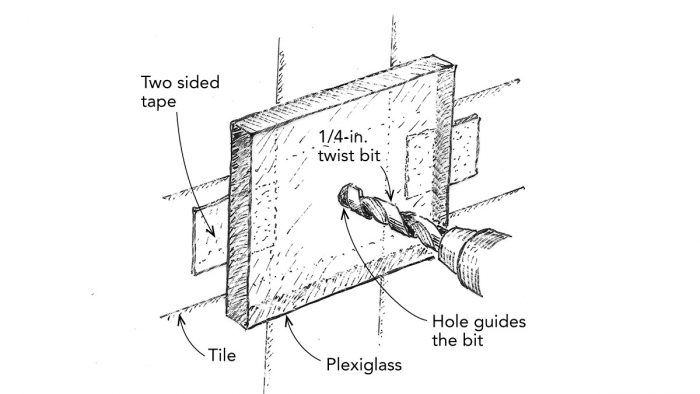 The hole-saw shape of diamond drill bits used with porcelain tile makes it difficult to get them started. My solution is to drill a hole in a piece of plexiglass with a twist bit the same diameter as the tile bit you're using to drill the tile. Mark the hole location on the tile and use two-sided tape to mount the plexiglass to the tile. Drill a hole in the plexiglass with the twist bit and then use the hole to keep the tile bit from walking when you're getting started. Squirt a little water as you drill to cool the bit.
—Dick Snavely, Lexington, Ohio
Edited and Illustrated by Charles Miller
Published in Fine Homebuilding issue #301 titled "These Bits Were Made for Walking"