Tub and Shower Surrounds Without the Tile
A reader looks for alternatives to a standard tile surround.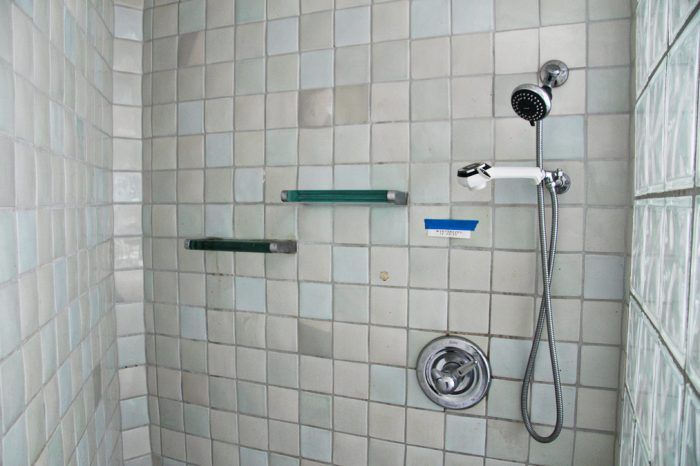 An FHB reader named Tony is building a custom shower/tub enclosure and is looking for some alternatives to tile. He's looked at two types of solid surface as well as some less expensive PVC, but so far he's struck out.
"I have seen some of the Corian and Swanstone products and am interested in them but from what I have seen, they are only made for certain size enclosures, and the cost is more than I want to spend," he writes in this recent Q&A post. "Have also seen some cheaper PVC wall panels which are sold at Home Depot, but I'm concerned if the quality is there."
While not offering specifics, Tony also has found a number of companies in the UK that make waterproof wall paneling, but nothing like that here.
"Can anyone recommend alternatives to tile?" he asks. That's where we start this Q&A Spotlight.
What about glass?
Sungod recommends tempered glass with the back side painted in the color of choice. One potential problem is that once tempered, glass can't be cut or otherwise altered.
"I am certain you cannot successfully cut tempered glass," warns MGMaxwell. "It is under great stress and any attempt to breach its surface will lead to fracture. A glass shop can make such a piece for you, though, just as they can make shower doors."
Sungod doesn't know whether the holes for the shower valves could be cut before the panel is tempered. But that's exactly the route that reader Izaak considered. He had a quote of $400 for cutting tub valve holes before the glass was tempered, and would have added some smaller holes in the corner he could have used for mounting the glass to the wall.
Ultimately, Izaak put the idea on a back burner but plans on pursuing it in a new suite bath.
"Unless you have a maid or are really addicted to taking showers in toxic chemicals, I am a strong believer of no tiles in shower surrounds," he adds.
Glass block is another option, suggests Dinosaur. He built glass block walls for one shower on top of a 6-in. high-framed stub wall sheathed in 1/2-in. cement board and then tiled.
"The cleaning of the glass block was never a question in deciding to use it," Dinosaur says. "I would think one of those new 'daily' anti-soap-scum spray-and-rinse products might be worth a try. If that doesn't work, use a strong ammonia window cleaning solution, scrub with an automotive-type windshield brush, and hose it down."
Plastic panels
According to a reader named Florida, fiberglass reinforced plastic (FRP) is the way to go. "I've used FRP panels for shower surrounds for years and years," Florida writes. "They're cheap, easy to install, totally waterproof, and look okay to me. I use them mostly in rentals but have replaced tile surrounds in nice homes with them."
He adds that while Home Depot has the panels in white, they should be available in many colors, some with designs. "And yes," he says, "I know they're not supposed to be used as surrounds but I've done it for over 15 years with no problems."
Panels come with a pebbled surface, Florida continues. "Lots of convenience stores use it on their bathroom walls because it's corrosion- and graffiti-proof."
Davo304 is another fan of FRP panels. He says he glued them to moisture-resistant drywall and has a leak-free installation. "It's not the greatest look," Davo admits, "but it cleans up well and it's functional."
Davo installed the panels in a small basement shower for someone else, replacing the original surround that had fallen apart with mold and decay. There have been no problems with the FRP panels that he installed three years ago. "My own home-installed surround is approximately five years old," he adds. "No problems so far."
Davo continues, "This is not a glamorous thing, just a very functional, no-nonsense surround. The only style I'm familiar with in FRP is a 'pebble' look. The colors are white, gray, and tan."
So what's wrong with tile?
Great, replies Scooter1, "I really want my master bath to look like a toilet in a service station. Come on, guys, this is Fine Homebuilding, not cheap and crappy bathrooms."
Scooter is a self-described tile guy, and he doesn't understand Tony's aversion to using it.
"Jeez, Tony," he writes, "if you are going to the time and trouble to make a 'custom' enclosure like you describe, why not add value to your home with a tile or stone surface?
"I'm a tile guy, and just don't understand. Solid-surface enclosures look cheap, and add less value than a tile or stone application."
His preference is to tile the entire wall and ceiling, but says he doesn't have a strong opinion about where the tile ends as long as it goes above the showerhead.
One problem with tile, replies Florida, is that it will crack if the surface to which it is applied moves around. That was his experience in a 75-year-old house that had been built on a substandard footing.
"As a result, it still shifted around a bit," he says. "I remodeled one bath and put nice tile everywhere. A year later the tile was cracking everywhere from stress due to the house moving. Not having learned anything, I demoed it all and re-tiled. Two years later I had to give in and demo it all again. This time it had leaked enough that I had lots of carpentry work replacing all the rotted wood."
That's when he decided to use FRP panels, and five years later when he moved the panels still looked good.
When flooring becomes a wall
Poorsh found that a piece of no-wax flooring was just the ticket when he redid a bathroom to replace its mustard-colored tile tub surround and orange countertop, a combination that hurt his eyes.
"Found a great color and pattern of Solarian no-wax floor covering at about $175," Poorsh says "Put 45° fillets in the corners and used contact cement and dowels vertically to install. No seams; easy care. It was hairy to install because of contact cement, but got it done."
The flooring was still going strong five years later when he sold the house. The surround was easy to maintain and showed no evidence of cracking in the corners. "The choices are endless and it looks like tile-sort of," he says. "I did some wood trim around the top and around the tub. Not high-end but very effective."
DianeH20s is another fan of vinyl flooring for shower walls. She says she bought a remnant 17 years ago and glued it to moisture-resistant drywall. She finally tore it out and found the wall behind the flooring was clean and dry.
"I initially decided to try the vinyl flooring because I wanted something that would shift with my house," Diane writes. "I have a pier-and-beam that was built with nine separate add-ons. The first room was built in 1908 so my house shifts and creeks a lot! The prefab surrounds pulled away from the wall and buckled, letting water behind it. The vinyl floor remnant was $20! So worth the risk. Took me three hours to put it in."
Our expert's opinion
Editorial advisor Mike Guertin had these suggestions:
There are lots of alternatives to tile for shower walls. FHB readers have suggested many viable materials. There are several considerations to take into account. Ease of cleaning, appearance, ease of installation, cost, and availability are the top five I focus on when evaluating my options.
Tile is commonly used for shower walls because it's conventional; cost-effective; available in a wide range of colors, designs, and sizes; and easy to work with; plus, it can be customized to fit any size and shape of shower. A big concern many people have with tile is how to keep the grout clean. Cement-based grouts will absorb water and bathing products. It can be hard to clean unless it's sealed regularly. Epoxy grouts and single-component urethane or acrylic-silicone resin grouts are easier to keep clean and don't require sealers. So if dirty grout is your reason for avoiding tile, try better grout.
In addition to the ideas offered by forum commenters, here are a couple others worth exploring. Large-format tile (2 ft. or larger) can cover a shower wall in three to six pieces and minimize grout lines. Full wall-sized tiles offer the seamless look you get with glass, solid surface, stone, and quartz panels and they may be less pricey. But wall-sized tiles take special tools and skill to cut and install (for more on that, see this guide to large-format tiles).
In this Discussion Forum thread, Bobtim suggested plastic laminate. Early in my career we contracted with a city housing authority to remodel numerous showers using plastic laminate tub/shower walls. We order three-sided sheets with thermally formed 1/2-in. radius bends at corners to fit precisely between existing walls. Plastic laminate is affordable, seamless, comes in an array of colors and patterns, and is easy to work with.
Tony noted that there are several types of waterproof panel available in the UK but not here in North America. He wondered why. That's not uncommon. It took a decade or more for materials and equipment like fiber-cement siding, quartz composites, luxury vinyl tile (LVT), minisplit heat pumps, and PEX tubing to become readily available here. But if you turn over a few rocks and use the right internet search terms you'll find several companies offering the waterproof panel products for sale in the U.S. Last year I heard that Fibo waterproof panels from Norway are available here. And there are other companies like Innovate Building Solutions and DumaWall that offer similar products.
I think Tony has lots of options for finishing the walls in a custom shower. Now the hard part is deciding which to use.
Scott Gibson is a contributing writer at Fine Homebuilding and Green Building Advisor. Mike Guertin is a Rhode Island builder and an editorial adviser to FHB. Reader comments may have been edited for clarity.
---
RELATED STORIES