Valve Fittings With Individual Shut-off Capabilities
These dual push-to-connect fittings from Apollo make it easy to do repairs and still maintain water supply to other appliances.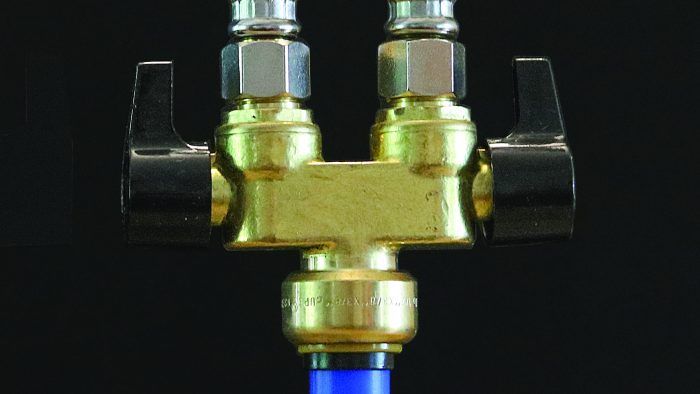 I recently replaced the old, copper water-supply lines to my kitchen with PEX. To connect the new supply lines to the sink, refrigerator, and dishwasher, I used Apollo's Tectite brass push-to-connect valve fittings, which include two shut-offs in one fitting. The individual shut-offs allow for continued use at the sink or the appliances if the supply needs to be turned off at one or the other. This means that if you need to cut off water to the sink to make repairs, you can still get your dishes done in the dishwasher.
Each valve fitting consists of a 1/2-in. push-to-connect fitting on the inlet side and two 3/8-in. O. D. compression fittings with individual quarter-turn shut-off valves on the outlet side. On the cold-water supply, one outlet is connected to the faucet and the other to the water line that leads to the refrigerator. On the hot-water supply, one outlet connects to the faucet and the other to the dishwasher.
These inline dual-outlet supply-stop fittings (model FSBDVS1238C) made connecting the supply lines a cinch, especially in a tight space. The push-to-connect inlet works with 1/2-in. copper, CPVC, or PEX and the outlets fit most common faucet supply lines and tubing. A version of the fitting with the outlets opposed is also available. The connections require no special tools and the quarter-turn shutoff ball valves are solid and operate effortlessly.
At $46 for two fittings, the cost is comparatively expensive to typical shut-off valves, but for my money their ease of installation, versatility, and smooth operation are worth every penny.
Photos by Rodney Diaz
---
RELATED STORIES
Previous:
Plumbing Dope or Teflon Tape?
Next:
Go-to Tools for a Plumbing Tool Kit